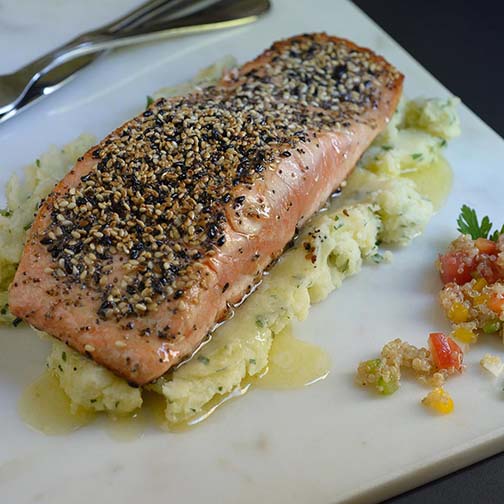 Seed-Crusted Salmon With Parsley Mash and Quinoa Salad Recipe
Seed-Crusted Salmon With Parsley Mash and Quinoa Salad Recipe Instructions
Ingredients
Salmon:
4 salmon fillets or steaks, skin removed
2 tbsp. olive oil
3 tbsp. salted butter, room temp
2 tbsp. salted butter, melted and warm
Juice of ½ lemon
¼ cup white wine
2 tbsp. olive oil
1y ½ tbsp. flour (for a gluten-free version, use 1 tbsp. cornstarch
1 tsp. sesame seeds
1 tsp. poppy seeds
1 tsp. chia seeds
2 tsp. celery seeds
Salt
Fresh ground pepper
Parsley Mash
2 lbs. Russet potatoes
2 tbsp. butter
¼ cup skim milk
2 tbsps. Fresh chopped parsley
Salt and pepper to taste
Quinoa Salad
½ cup quinoa (you can substitute for wild rice)
1 red onion, diced
2 round tomatoes, seeded, peeled and dice
½ red bell pepper
½ yellow bell pepper
4 tbsp. Extra virgin olive oil
Juice of ½ lemon
½ tbsp. balsamic vinegar
Salt and pepper
Directions
Salmon:
Arrange the salmon steaks on a large plate.
In a large bowl, mix the butter, 2 tbsp. olive oil, flour (or corn starch), seeds, salt and pepper.
Dredge the salmon pieces on the mix, one side only. Arrange back on the plate and take to the fridge for about 15 minutes.
Heat up a large non-stick skillet over medium heat, coat with 1 tbsp. of olive and add the salmon, seed-side down first. Cook until it's lightly golden, about 2-3 minutes, then flip and finish cooking. Be careful not to overcook the salmon – a food thermometer is the best way, salmon is done at 140/145 F.
Mix the butter with the lemon juice and wine and drizzle over the salmon once plated.
Parsley Mash:
Boil the potatoes in water and salt until tender. Drain, return to the pot, and add the butter and milk and mash with a potato masher. Season with salt and pepper, mix in the parsley and reserve warm.
Quinoa:
Fill a medium pot with water and bring to a boil. Add the quinoa and boil for about 20 minutes. Strain under cold water using a fine strainer. Set aside to cool.
Once cooled down, mix the quinoa with the onions, tomatoes, peppers, lemon juice, balsamic, and season with salt and pepper. Reserve in the fridge or at room temperature.
Serve each salmon fillet on top of a good serving of mashed potatoes, drizzled with the white wine sauce and with a side of quinoa salad.
read more