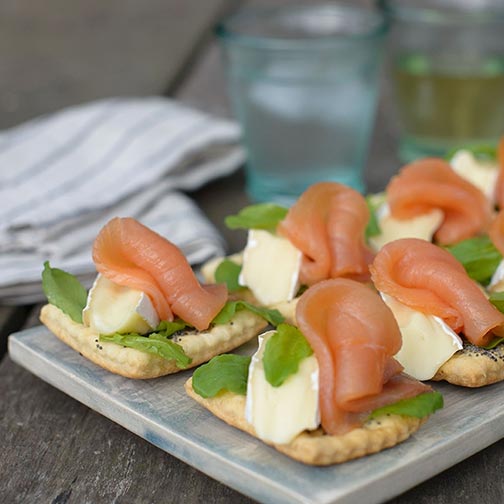 Poppyseed Crackers, Brie and Smoked Salmon Appetizer Recipe
Ingredients
1 y ½ cups self rising flour + ¼ cup for kneading
3.4 oz. Butter, cubed
2 tbsp. olive oil
1 tsp. Sugar
1 tsp. Salt
1 cup water at room temperature
1 egg
1 tbsp. water
2 tbsps. Poppy seeds
8 oz. Brie cheese
8 oz. Smoked salmon
2 cups arugula
Fresh ground pepper
Directions
Heat oven to 375 F.
In a large bowl place the flour and make an indentation in the center. Add butter, oil, sugar and salt and mix with a fork until you get the consistency of breadcrumbs.
To form the dough, add 1 tbsp of water at a time, and work with your hands until you get a firm dough ball. The ball should separate easily from the walls of the bowl.
Sprinkle your counter top with flour, and knead the dough for 1 minutes until integrated. Cover with a kitchen cloth and rest for 10 minutes.
Roll out dough to 1/16-inch thick. Cut into desired shape. Line a baking sheet with parchment paper and arrange the crackers.
Whisk egg and 1 tbsp. water and brush the crackers lightly.
Sprinkle with poppy seeds and bake 10-15 minutes until just golden.
Let cool and top each cracker with a slice of brie, arugula leaves and slice of smoked salmon.
read more