Frito Pie Burritos Ground Beef Recipe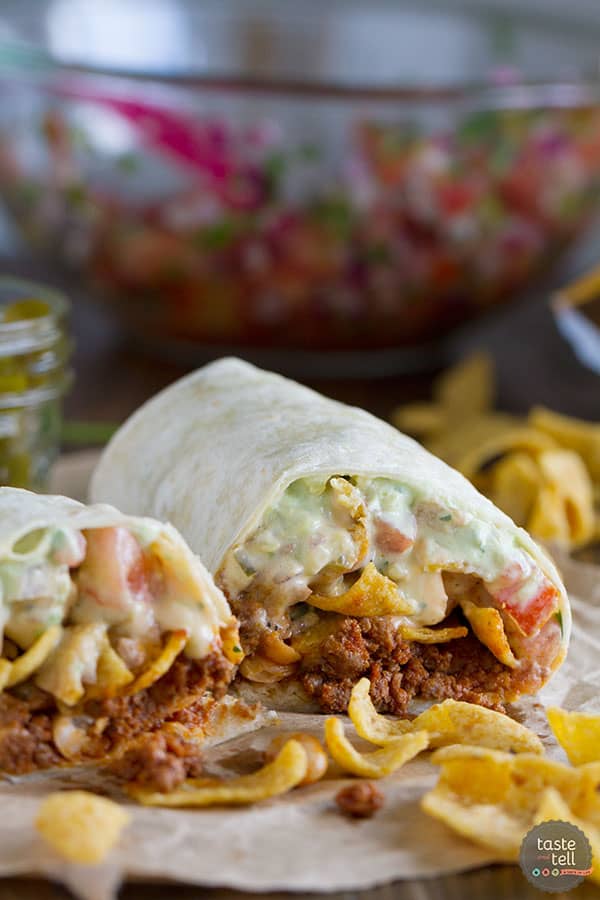 1 lb ground beef
1 (8 oz) can tomato sauce
tomato sauce can of water
1 teaspoon all-purpose flour
1 teaspoon chili powder
½ teaspoon salt
½ teaspoon pepper
½ teaspoon onion powder
½ teaspoon garlic powder
¼ teaspoon unsweetened cocoa powder
⅛ teaspoon cumin
1 can (15.5 oz) beans, drained and rinsed (I used cannellini beans, but pinto or kidney would work well)
2 large tomatoes, diced
½ cup finely diced red onion
½ jalapeño, seeds and ribs removed, minced
½ cup cilantro, minced
juice from ½ lime
salt
2 tablespoons butter
2 cloves garlic, minced
½ jalapeño, seeds and ribs removed, minced
1 generous tablespoon cornstarch
1½ cups milk
4 oz cream cheese, cut into cubes
8 oz sharp cheddar cheese, shredded
1 (4 oz) can green chiles
salt and pepper
1 avocado
½ cup sour cream
juice from ½ lime
salt
4 large (12-inch) tortillas
pickled jalapeños
2 cups Fritos corn chips
Cook the ground beef in a large skillet over medium-high heat until browned and cooked through, breaking up the beef as it cooks. Add the tomato sauce, then fill the can with water and add that water. Stir in the flour, chili powder, salt, pepper, onion powder, garlic powder, cocoa powder and cumin. Cook until it starts to bubble, then reduce the heat and continue to simmer until the chili is thick, 30-45 minutes. Drain and rinse the beans and add them to the chili, and continue to cook until warmed through.
In a medium bowl, combine the tomatoes, red onion, jalapeño and cilantro. Stir in the lime juice and season to taste with salt. Refrigerate until ready to use.
Melt the butter in a large saucepan. Add the garlic and jalapeño and cook until softened, a minute or two. Whisk in the cornstarch. Slowly pour in the milk, whisking constantly. Bring to a boil and let cook until slightly thickened, then add in the cream cheese. Cook, whisking constantly, until the cream cheese has melted and the sauce is smooth. Slowly add in the cheddar cheese, stirring until melted. Stir in the green chiles. Keep warm.
Remove the pit and the skin from the avocado and mash in a bowl. Stir in the sour cream and lime juice. Season to taste with salt.
Working with one tortilla at a time, leaving 1½ to 2 inches of a border on each side, start layering with pickled jalapeños, avocado cream, pico de gallo, about ½ cup of Fritos, queso sauce, and then chili. Fold the edges over the filling, then wrap and roll the sides into a burrito. Serve immediately.
read more
Get More Recipes
Frito Pie Burritos Ground Beef Recipe
---